Memory Commander
The Ultimate Memory Manager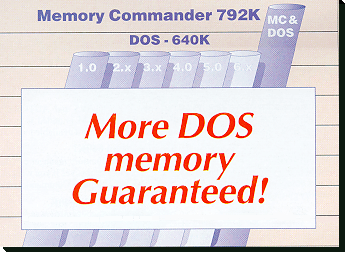 ---
Every independent test proves Memory Commander delivers the most available DOS memory of any memory manager! That includes the memory managers in DOS 5 & 6.
Memory guru NOT required!
The best news is that Memory Commander's memory management services are completely automated. You don't need to be a memory guru to use it!
Completely automatic
Memory Commander automatically loads network drivers, TSRs and device drivers high and optimizes high RAM. It does this without those annoying changes to your CONFIG.SYS and AUTOEXEC.BAT files. Then unused high RAM is added to conventional, low DOS resulting in the most available memory possible.
More than 64OK!
No other memory manager can do this, it's a Memory Commander exclusive! If you want to push the 640K ceil- ing up, only Memory Commander does it.
DOS 6, still only 640K.
Memory management was introduced in DOS 5 and improved in DOS 6. But, every version of DOS has one thing in common; the dreaded 640K barrier! Want another 50-15OK? Try Memory Commander now, risk FREE!
"What a feeling. I'd installed V Communications Memory Commander ... and was seeing something I had never seen before: 792,636 bytes free. Wow!"
           

Fred Langa

  

BYTE
"Wow!" "Memory Commander is an innovative product that will be your best choice if you must have a really large memory pool for DOS."
           

Barry Simon

  

PC MAGAZINE
"Memory Commander consistently had the most free DOS application space, providing, in some tests, over 15OK more free space than the competition."
           

Dan Gookin

  

INFOWORLD
"Using Memory Commander from V Communications, there's no fuss, no muss, and a lot of DOS." "...this $99.95 program raises the limit to 952K. "
           

Winn Rosch

  

PC Sources
"What's really nice about Memory Commander is that it doesn't require you to add any statements to CONFIG.SYS or AUTOEXEC.BAT" "The install program is devilishly simple. "
           

David Harvey & Rich Santalesa

  

COMPUTER SHOPPER
"...Memory Commander can provide more than 900K of conventional, real-mode memory." "...and unlike other memory managers, this one doesn't make you change AUTOEXEC.BAT or CONFIG.SYS to load TSRs and drivers high. "
           

Brett Glass

  

PC World
Specifications:
Memory Commander operates on 386, 486 and Pentium based systems with 1.5 Mb of RAM and MS/PC-DOS 3.x and above. It is compatible with Windows 3.0 & 3.1, VCPI, VDS and RSIS. It provides complete pooled EMS and XMS services.
List price: $99.95
Available from Mix Software for only $29.95
---

C-Clearly


Boot Commander


Mix Product List